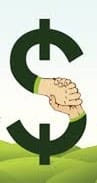 Peer to peer or P 2 P meets the needs of those whose savings are being depleted by inflation (lender) and those who are denied funds by the banks (borrower). It's a match made in heaven but conducted on the internet and has a reach that spans the globe.
Why? It's a win-win, the investor gets a better return than banks offer and the borrower gets a cash resource for a wide variety of purposes.
Who Can Borrow
There are a growing number of online funding sites available.  You can apply for business loans, personal loans, student loans; in fact almost any reason that you need money there is a P2P online site that specializes in that type of loan or may include it in their services.
Like any other loan you will go through an application process. One of the main differences between applying for a traditional bank loan and a peer to peer loan is that you will have the opportunity to explain why you need this loan on the application.  Be honest and transparent in your explanation and you may find that one of the investors has gone through times just like yours and wants to help. Once one investor takes your cause on, there's a good chance that others will too.
Why Get a Loan This Way
Peer to peer has advantages over traditional loans:
•    They offer loans at lower interest rates than banks with loans starting as low as 6% (at the time of writing).
•    Easier to qualify ; unlike a bank the decision is sometimes based on how compelling the borrowers reason for the loan or other social factors such as does the borrower have anything in common with the lender.
•    Wider range of loans available; if you need a smaller amount to get out of a jam a bank is not the place to go and they aren't interested in the smaller dollar loan. The flexibility of the peer to peer lender is that you can apply for as  little or as much  as you really need
Peer to peer lending has been around online since 2005 and is growing as options are dwindling for consumers to get access to the cash they need. Like other online resources once you have been funded you can get the money deposited directly into your account.